We're back in business, Jazz Fans
On the heels a long break while we all weathered this strange and difficult time, and only after much planning and preparations behind the scenes, we've decided the time is right to step back on stage — safely and responsibly — to bring you another season of live, big band jazz concerts.
As you may already know, this season kicks off on Saturday, November 13th at the Broadway Theatre with Back In The Swing Of Things! This is also the first time that you will be able to enjoy an SJO concert live from your living room, thanks to the magic of live streaming.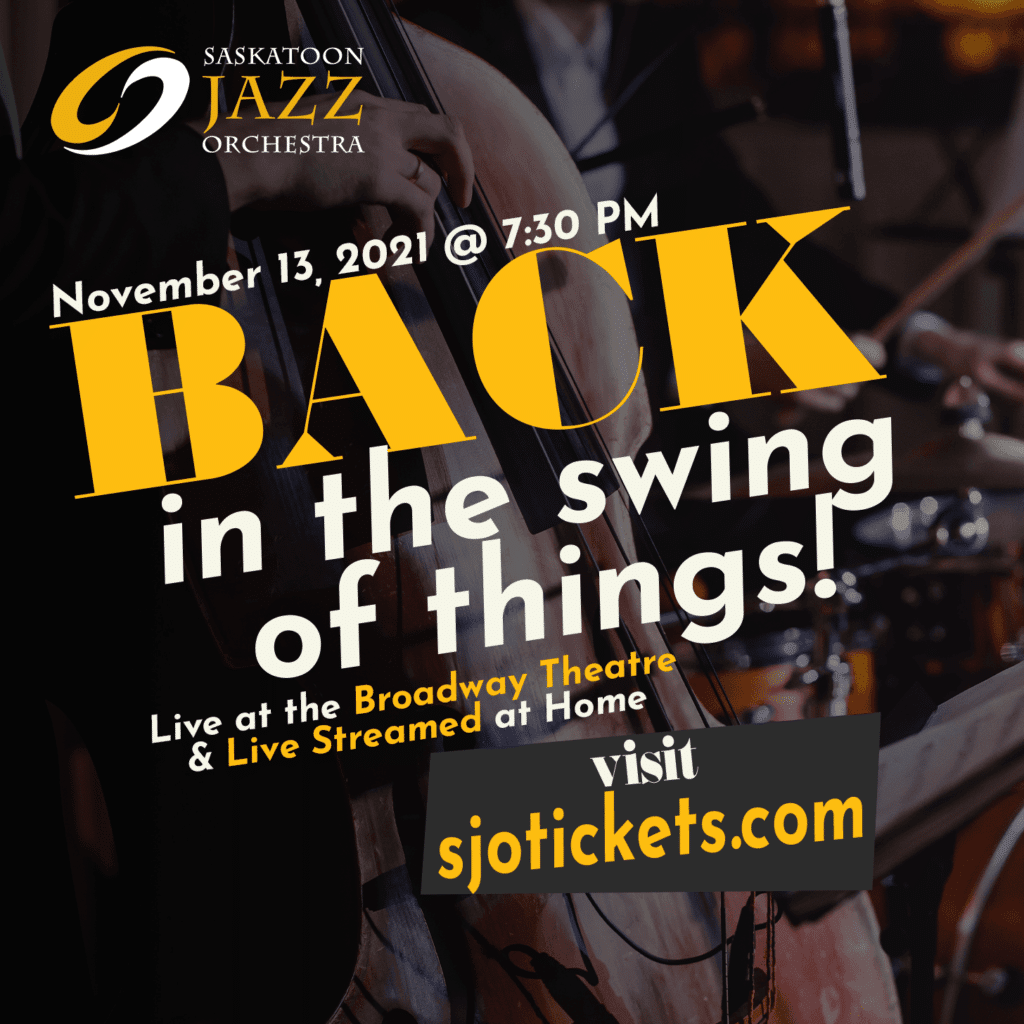 Join us live at the Broadway Theatre
The safety of our audience, SJO personnel, and theatre staff is extremely important. If you'd like to join us in person at the Broadway on November 13, there are few things you should know, courtesy of the Broadway's website:
Masks will remain mandatory in all common spaces within The Broadway until further notice.
You may remove your mask while seated, to consume food and drink, but we ask that if you must leave your seat for any reason, you replace your mask on your face.
Our capacity will remain at 150 maximum, with socially distanced seating identified in our auditorium to ensure all patrons maintain a safe distance from one another.
Contact tracing will remain in effect upon entry to the building.
Sanitizing stations are located at high traffic areas within the lobby and auditorium, please use sanitizer before entering the auditorium when you arrive.
You will also need to prove proof of full vaccination to enter the theatre.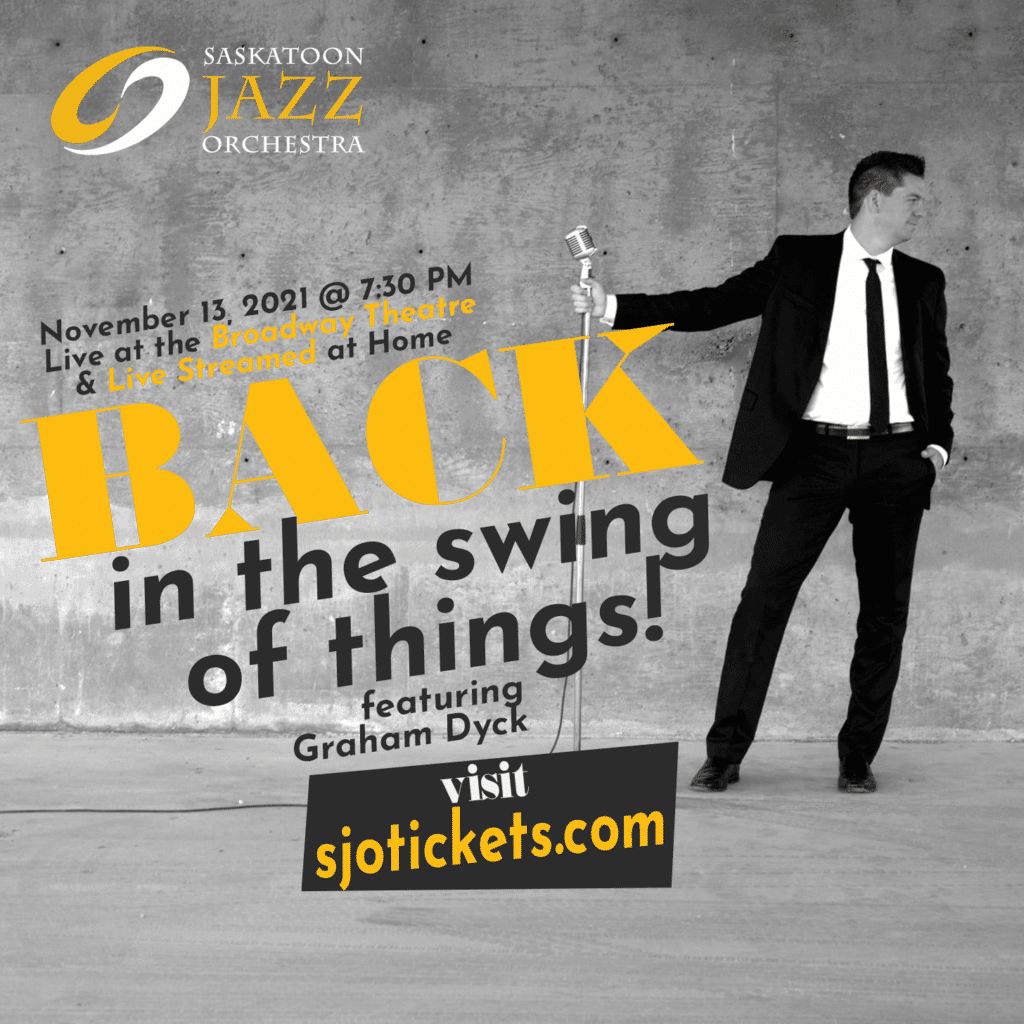 Enjoy the show Live Streamed at home
We've teamed up with the wonderful folks at the Saskatoon Symphony Orchestra to bring the SJO to you at home via the ConcertStream.tv platform.
You can buy your live stream access any time before the show to be able to watch the concert live on the evening of November 13th.
You'll also be able to rent a copy of the whole performance after the show if you can't join us that evening.
Whenever you choose to watch the live stream, there are a few options available when you make your purchase, all of which go a long way to helping the SJO keep the lights on, keep the concerts coming, and directly support our artists, musicians and other personnel.
Regular live stream access can be purchased for $19.99. You can also choose to buy "Supporter Tickets" for $35 or $50. Supporter tickets get you the same access to the concert live stream, but they also help us offset the additional costs of running a live stream even more.
However you choose to watch this concert — in person at the Broadway, or live streamed at home — we're always grateful for your ongoing support.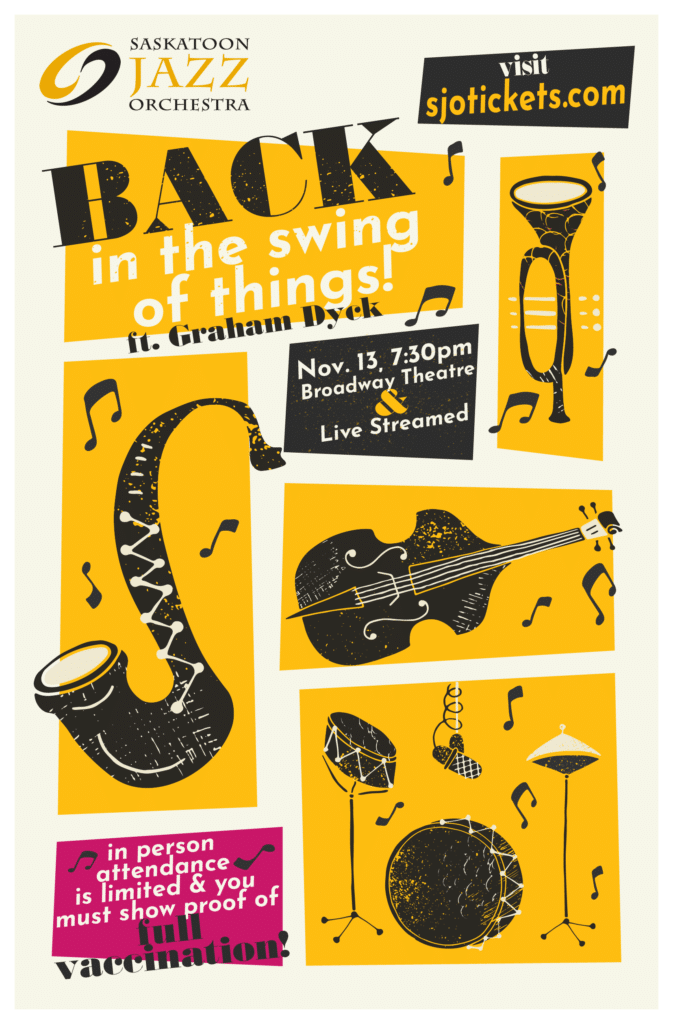 About The Show
This show marks the return of the SJO performing live in concert at Saskatoon's iconic Broadway Theatre, and we've put together a setlist that should tickle everyone's fancy.
Repertoire will include classic compositions and arrangements from the libraries of Count Basie, Duke Ellington, Rob McConnell, as well as the work of other contemporary composers.
We're thrilled to announce that Saskatoon's own Graham Dyck will be joining us on stage to sing a selection of tunes.

About Graham Dyck

Every Artist has their story…..some are child prodigies who discover their love for music and talents at a young age, while others enable their musical passion to develop years later. The latter is that of Crooner, Singer and Songwriter Graham Dyck.
Graham took a different journey that had him discover how music flows from and within him, desperate to escape. This talented Crooner is a Paramedic and Firefighter, but for the past few years, any spare moments have been devoted to ramping up his music career. His crystal clear, pop-infused vocals captivate and engage while his stage presence and sincerity connects him with the audience like they are family.

With a random meeting with Saskatoon Jazz Legend Maurice Drouin, Graham was led into unleashing his musical talents. Maurice took him under his wing and mentored him to help him grow as both a musician and entertainer. Under the tutelage of Maurice Drouin and only after a few short years in the business, Graham Dyck continues to soar.

Read Graham's full bio on the event page here